Starbucks Dungeon

Nothing is permanent. No matter how abrupt or gradual, still, everything changes.

Starbucks Intramuros is my favorite branch. Situated inside one of the tunnels in the walls of Intramuros or The Walled City of Manila. I call it Starbucks Dungeon Branch hehe.. Seth calls it Kweba ng Starbucks (Starbucks Cave). Come in and you'll hear the standard jazz music that this coffee company plays. You'll hear talking and the occassional bursts of laughter. You'll smell all sorts of nice scents like coffee, caramel, vanilla and cigarette smoke. All right the last one isn't nice at all!

What makes this branch so special? Compared to other branches, In my opinion, this one's not so classy. I mean hello! Its in a tunnel! If you think about it, this tunnel could have been a place where they punish the Indio (natives) servants which are the only ones allowed inside the walls or maybe this is the tunnel where the Spanish soldiers take their lunch to take shelter from the 18th century afternoon sun. Or worse - this is where they imprison the guerillas.

I'm not sure though but its a testament of how times change. Its my favorite branch probably because, aside from it being in a historic site, coming here always puts my mind in perspective. Once I sit on one of the couches and look at the arched ceiling and the unpainted brick walls I get a sense of assurance that there is a Higher Being that controls things and puts everything in balance. This was once a prison(probably), now its a branch of one of the leading coffeeshops in the world. Translation: No matter how bad your situation is right now, it will change. It could be abrupt or gradual but it will. You'll see.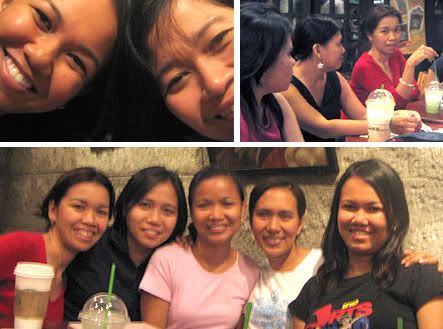 Geraldine's despedida, June 2006. All photos were taken at Starbucks Intramuros. Next time I will try to get a photo of the whole branch from the outside.