Packing up lives

When you're moving away overseas for an indefinite length of time you are forced to divide your belongings into three different categories.

Stuff to take with you.
Stuff for storage.
Stuff to give away.
Everyday my Mom and I, with the help of
Marco
, spend numerous hours breaking our backs, bathing in our own sweat and inhaling years of accumulated dust just to pack our family belongings that are to be stored. At night I sort out my belongings into the categories I mentioned above. Ang hirap pala, as in grabe ang hirap talaga!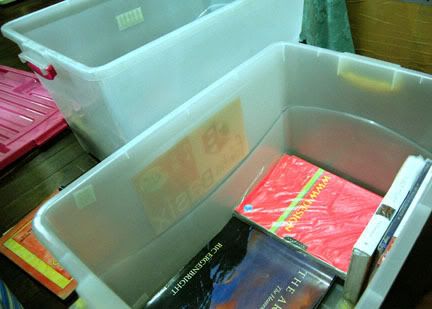 Under category 1, Stuff to take with me are, of course, my clothes, books, and some gadgets I need for work. All of these must not exceed 27 kilos only, 20 for baggage and 7 for hand-carry. Argh!!!
I know what you're thinking. Why not pay for excess baggage? If we can afford it, sure! Why not? But moving away is an expensive thing: there's airfare, documents, bills, trucking, storage, people to hire, etc. Argh!!! (again) Oh and of course the despedida thing needs funds too.
I hope you understand the difficulties I am experiencing. Nevertheless, this difficulty could be a positive thing when viewed from a different perspective. It is a chance to let go of all the clutter I accumulated through the years. A chance to start a new life in a new place and meet new people. And of course a chance to enhance my packing skills - and my pack must not exceed 27 kilos. Argh!!! (last time, promise)