The Encourager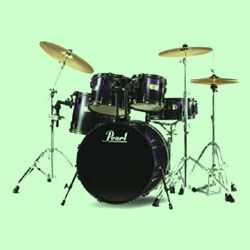 I haven't played the drums for almost three years. And after some contemplation and much prodding from my friends, I decided to join the music team (again) at church. After a few weeks, I got invited to play in a special number during the service with the "experimental" girls' band that they were establishing. I was a little bit nervous when I heard "All that I can do", the song we're going to play. And as "d- day" approaches, my nervousness built up like sacks of rice heaped upon another.

I think I lost it, you see. I lost the beat. Something happens when you put aside the things that you like doing. I put aside drums and the drums put me aside in return.

The spotlights were on us, too much that I couldn't even see the audience. I was so scared of making a mistake that I thought I was going to collapse.

And then there was Lea.

She was shouting my name, inspiring me with confidence, from the moment I climbed up the stage till I struck the final beat. She'd been shouting my name for three years now encouraging me to play again. And I must say, she has encouraged me so.

The words we say make a tremendous difference on the lives of the people we encounter. So lets make sure we encourage at least one person each day. Just say things about them that will lift their spirits up. You'll never now how much goodness you can impart on each person you talk to.

To all the Leas that encourage and keep on encouraging me - thank you.