Massage Anyone?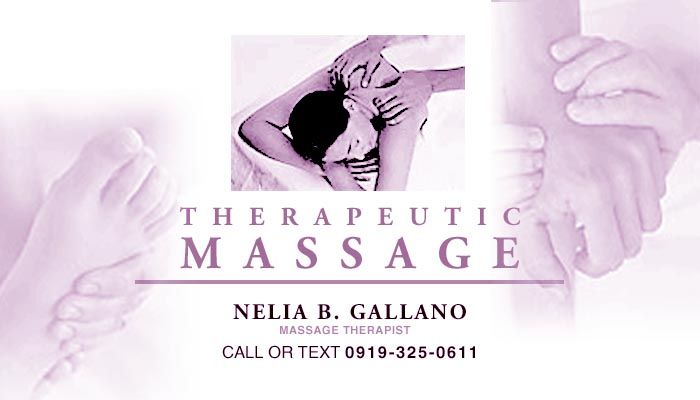 My Mom does massage therapy for a living. Its one of the few things she's focusing her attention on right now. She's good, promise! Here are what some of her clients say:
Nakatulog ako habang mina-massage, sobra akong na-relax. Natanggal pa yung mga masakit sa likod ko.



- Bang, Recruitment Director
Ang galing ni tita! Matagal nang masakit ang likod ko pero nawala nung minassage niya.


- Leinie, Student
Sarrrap!!! Mukhang linggo-lingo mauulit ito!

- Madonna, FEU Professor
Gumaan pakiramdam ko!

- Cely, Nanay ni Madonna
Massaging isn't just learned, it's a gift. Remember that a mere touch encourages, relaxes and heals. I find tita Nel's hands as gifts made to heal not just my tired body but my mind and soul as well. I have been undergoing physical therapy because of my spinal problem. I was in constant pain before but after sessions of healing massage, I call it as such, from tita Nel, I felt relieved and relaxed. It's one thing to know and another thing to experience. Experience the TOUCH my friends... and be healed!



- Dolly, Resource Development Officer
Its true, I can attest to the fact that she's got the gift. My job requires me to sit in front of the computer almost 95% of the time, and most of the time heavy "mouse work" is needed. So the tendency is I go home at night with pain shooting up my arms to my shoulders, all the way to my lower back. I often ask Mom to take care of it, and she always does. Basta, magaling siya, its like magic! :-)


Try n'yo, you won't regret it! Call or text 0919-325-0611.