Back to School

Starting this week, I'm taking my classes in Web Design, yay finally! I've been waiting for this since the second quarter of last year, and now that its about to start, I can't really believe its happening haha! It amazed me how things worked out and how I was able to come up with my tuition. Proven na - God provides.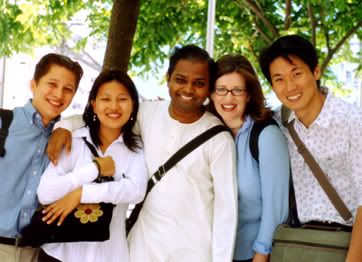 I'm also taking classes in the Asian Seminary. Oo noh, seminarista na ako hehe! My officemates and some faculty members teased me, but they supported me :-) when I stood in front of the bulletin board looking for subjects that will fit in with my schedule.

I decided to try out Dr. Zonia Tappienner's Inner Healing class, both out of curiosity and, maybe just in case, necessity. She started with questions like "In your opinion, how do other people feel about you?" and "How do you feel about yourself?" Pretty interesting class, di ba?

I also enrolled in Marcia Anderson's Old Testament which will specifically study the books of Genesis to Esther. They say to better understand the New Testament go to the Old Testament. Its like watching StarWars, to appreciate episodes IV, V, VI panoorin muna ang episodes I, II, III.

Most of my classmates are pastors, ministers, deacons and church workers. I'm not insecure, though, because I am a... a... uhm... a christian, yes, thats it hehe! My Old Testament class started with everybody introducing themselves. Since Genesis tackles origins, we are to discuss the origin of our name.

Some names were Biblical...

My name is Samuel, it means "God has heard". (Cool!)
Some were named after stars...
My name is Pilita, my mother named me after Pilita Corrales. (Wow, sige nga kanta ka nga, sample nga!)

Some were pretty creative, read as: they're just making it up.
My name is Procopio because my mother's middle name when she was still unmarried is bla bla and my father's doctor since he was a child was bla bla.. (I'm not telling you the real name and the story, ok? He might read about this and strangle me in the elevator.)

Some were just plain confused...
My name is Diego but my name is Brando. (Ano ba talaga?)

I, on the other hand, am confident about the origin of my name...
My name is Jennifer, it came from the Welsh name Guineverre... who was an adulteress... (Yaiyks!)
Pero pinilit kong bumawi...
But people call me Gigi which means... uhm.. er... galunggong? (Ngek! Anong nabawi dun, lalong lumala!)