Chinita

7:53 a.m.
Ring… ring…



GG: Hello.. (awakened by phone ring)

Chinita: Ha! Ha! Ha! Nagising ka ba?

GG: Oo. Bakit? (groggy but smiling)

Chinita: Punta ka dito, breakfast tayo.

GG: May gym ako ngayong umaga, gusto mo mamayang gabi na lang? Pwede ka ba nun?

Chinita: Umm… ngayon na lang kasi…

GG: Uhm.. sige tignan ko (groggy pa talaga)

Chinita: Sige ha, pag-isipan mo.

GG: Ok. Bye-bye!

Chinita: Bye, salamat sa paggising!



After some thought, I decided to go there in the morning. I was too excited to "meet" Chinita.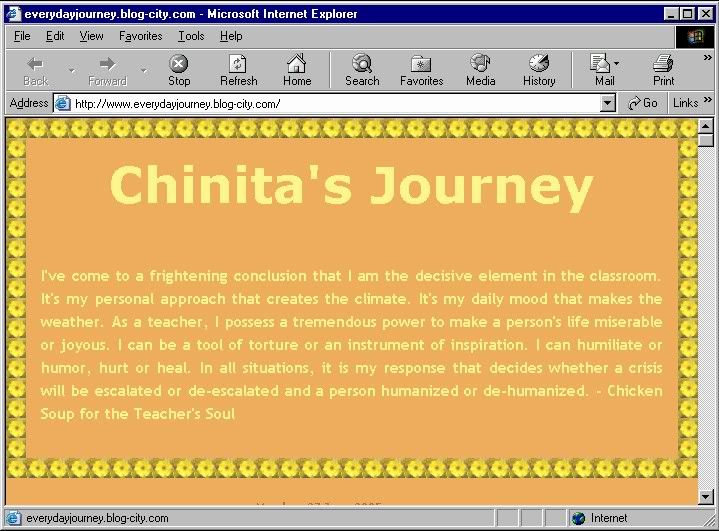 I knew her a couple of years ago when I was a just a designer and she was a counselor in this Christian organization. But the thing is, we never really met, or at least I didn't think so. We never talked back then, heck… I don't even remember us exchanging smiles. I'm pretty sure it was nobody's fault. And then I got to connect again with her through a common friend whom she also worked with in China. We got to know each other better through chat. Its funny sometimes when people move away from each other, that's when they grow close.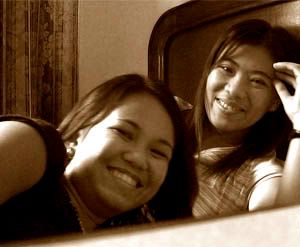 I've grown to respect her tenacity for excellence. I often find myself asking her for advice on several issues that trouble me. She has been an Ate (older sister) in a faraway land. I can say this about her: she is tough-minded, and yet tender-hearted.

Cheers to you, Chinita!