Hot Rock Cafe Thailand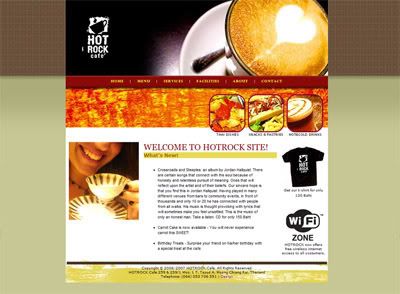 A few days ago I finished re-designing the Hot Rock Cafe site.
Hot Rock cafe is in Chang Rai, Thailand near Mae Fah Luang University, a university established by the queen of the country. Hotrock offers free English language tutorials and in the process sharing the Good News to the students. I've been hearing lots of good news from the crew there. The Thai youth, from what I hear, loves anything Western; listening to music, watching movies and learning the English language. So let's pray that this will be an open door for the Gospel.
If you happen to visit Chiang Rai, that's in the northern part of thailand, please drop by the cafe. Its on the highway to Burma. The staff is friendly and Thai students hanging out there would really love to interact with you.
That's it! Rock on!!!
P.S.
Hot Rock is included in my portfolio at Litratista.net.