Season of Singing

After about 3 years or so of vocal hibernation, I get to sing in public again.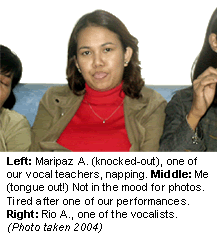 I used to be in a band that was to represent Asian music in Europe specifically Germany. We trained so hard for almost a year with our teachers, all of them from U.P. Conservatory. But then the trip never pushed through for a number of reasons. Oh well, at least I had some free vocal and stage training hehe...

I'm not the belting type when it comes to singing so I urge you not to expect too much. When I sing, I just sing from my heart, and that's my only gurantee - if it ever means anything.

Now in a span of 5 weeks I will sing in 3 events. First, at our christmas party. I hope everybody's drunk by the time they call me on stage haha!

Second event will be at a wedding where I will sing during the contract signing. I was hoping I'd sing during the reception where everybody's focused on eating but then again... contract signing it shall be.

Third will be at another wedding wherein I'm gonna sing a semi belty, partly husky, totally mushy but my absolute favorite wedding song in front of 400++ people.

So with all these events I guess I'm nervous and excited. But most of all - I'm deeply honored.