Diving In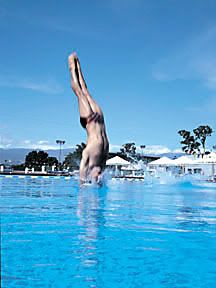 Have you ever experienced diving? The excited tension that you feel upon standing on the poolside or on a boat at sea. The energy you sense all over your body as you position yourself before the jump. The fear and doubt that you undergo knowing that if you make a mistake you'll be hurt.

And finally you breathe in and jump…

If you've never done this, you need to try it while you're still here on earth. Diving is the closest thing to flying, they say. And I can't agree more. The moment you leap in there's no turning back, otherwise your hesitation will hurt you.

* * * * *

"Hesitation can kill you. Dive in!"

My boss said this as Shing and I were doing the urong-sulong dance to cross a busy street in Makati. We were on our way back to the office after a free lunch in a classy restaurant. "Does this apply to everything?" I jokingly asked as he is always full of insights about business, the arts, the faith, and life in general. His genuine concern has guided me in this past few years that I've worked for him and I can say that I've changed a great deal, and I'm not only talking about career here.

"Yes. You have to be decisive." He answered. "You can only do so much research and preparation but in the end you will have to make a decision."

To our surprise he connected it to the subject of love and marriage. He asked us about some developments in our love life. Yes, I tell him all my thoughts and updates on my life about that particular subject. Its true, that in the end you have to decide to love (or not love) that somebody or else your hesitation could hurt you deeply.

Diving could be scary at first, but its totally liberating!

And by the way, be sure you know how to swim, ok? :-)