Tiwany

We went on a weekend trip to an island in Zambales. One of the teachers invited our group to this island where there were no other people. This was right after the busiest week of the schoolyear - what a great time to relax, swim and just be with nature with no other people around. Though in my Keirsey-Bates personality test I found out that I was an extrovert, I get worn-out by being with too many people from time to time, and after Holy Week, Seniors' Banquet and Graduation events, gosh, people, go away!!! : )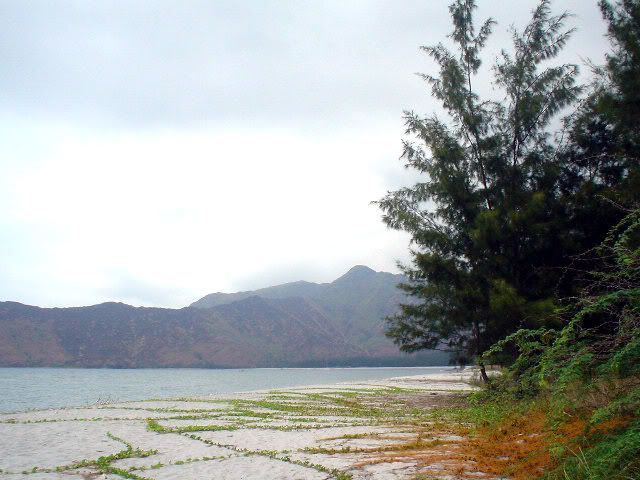 This was all ours, there were no other people around!

So off we went to Zambales! We passed by Olongapo first to grab some fishing gear and get some food. We ate lunch at a local diner called "The Coffee Shop" wherein you can feast on giant tacos and iced tea shakes. If you get a chance to go to Olongapo, don't leave without going to this diner. Believe me, after eating those giant tacos, I never wanted to see a single taco in my lifetime!

We reached San Antonio before sundown where the boats where waiting for us in Pundakit beach. The boatmen hurried up and loaded our gear onto the boats and heassded for the island. We passed by these seaside mountains that looked like giant slices of beef, I called it Shawarma mountains. The sea was quite calm that late afternoon so we arrived at, I'm getting tired of calling it "the island" so I'll just dub it TIWANY, The Island Without A Name, Yet.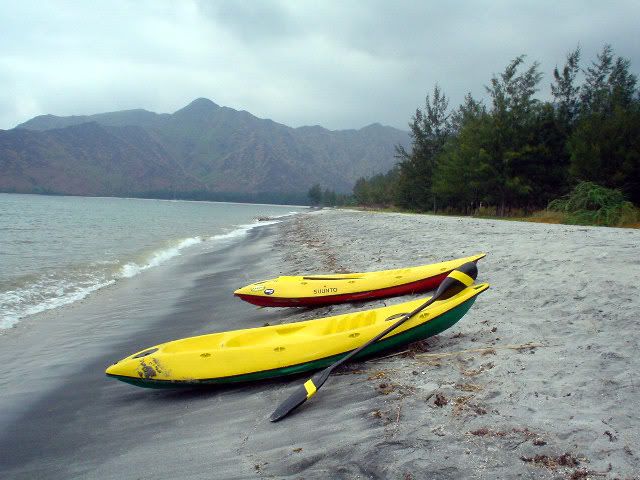 I practiced Kayak for half a day. The red one has got my buttprints on it : )



This is the hut where we all gathered to eat our meals composed of vegetables, fruits and grilled fish fresh from the sea. No junk food allowed!

Tiwany is not for the typical tourist. You have to love nature in its raw form to be able to enjoy the place. If you're looking for hot showers, air conditioned rooms and jacuzzis, you won't find it here. Tiwany has no electricity. We lived in a small Bamboo hut with an Anahaw roof and Nipa doors and windows. The absence of furniture gave the room a spacious interior. We slept on the bamboo floor and the only sound that you can hear that night were the rustling of trees and the splashing of waves. The food we ate were fruits, rice and all grilled fish and some vegetables. We spent Sunday swimming, practicing kayak and just hanging out by the beach letting the sun slowly burn our backs. Some of the guys went snorkeling and others went trekking toward a waterfall behind the mountains. All this topped with the fact that there were no other people around made Tiwany a different kind of weekend island getaway.



There's no electricity in Tiwany. Gas lamps scattered around the area
provide us with the light we need during nightime. Surprisingly, there
were no mosquitoes.